It's the only program of its kind in the Ivy League. You'll graduate with two prestigious degrees from Cornell University: an MBA and an MS in Healthcare Leadership.
Two powerhouses in graduate education—the Samuel Curtis Johnson Graduate School of Management and the Weill Cornell Graduate School of Medical Sciences—have partnered to create a dual-degree program that focuses on building general management skills and developing a deeper understanding of the healthcare industry. This two-year executive program will advance your career and strengthen your ability to drive meaningful change in healthcare.
Two degrees in two years
Located in New York City
Program Format - alternating weekends
Program Format
Executive MBA/MS program classes take place on alternating weekends at the Tata Innovation Center at the Cornell Tech Campus on Roosevelt Island in New York City over the course of two years (with breaks). Classes are offered in a Saturday/half-Sunday schedule.
Each semester begins with a one-week residential session designed for immersive, experiential learning. Fall residential sessions are held on Cornell University's main campus in Ithaca, New York each July and Spring residential sessions are held in the NYC metropolitan area each January.
Class Profile
The Executive MBA/MS program is designed for mid-senior level working professionals from across the healthcare industry. Each cohort is split between clinicians and non-clinicians from a diversity of functional areas within the healthcare ecosystem.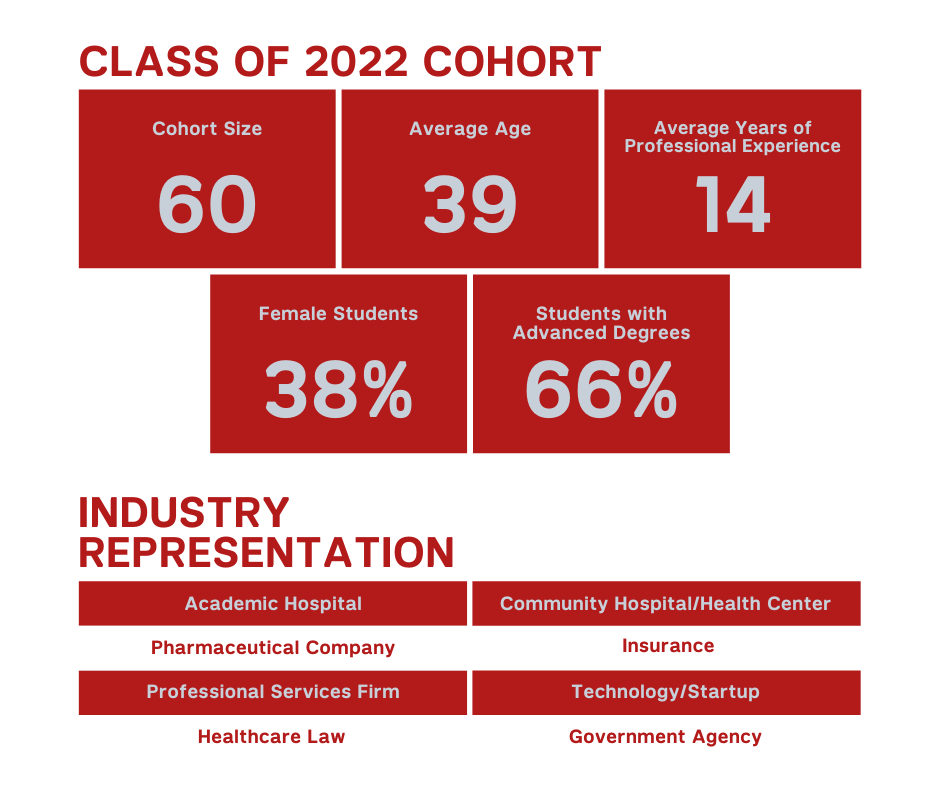 Student Experience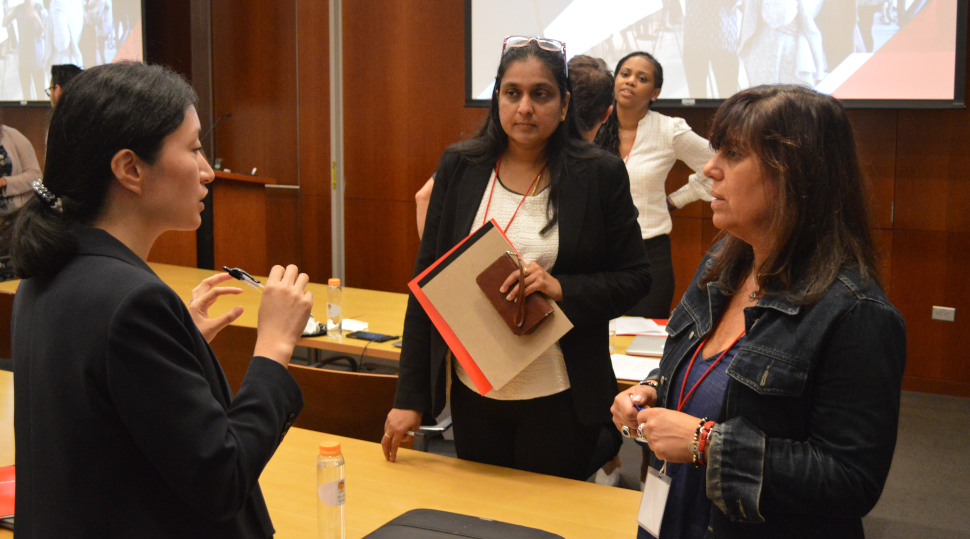 Executive MBA/MS students have access to networks and resources from two of Cornell University's top schools- the Weill Cornell Graduate School of Medical Sciences and the Johnson Graduate School of Management. By design, the program benefits from the strengths and connections of each school, exposing students to professionals and visionaries who live and breathe the business of healthcare.
Benefits of the dual degree program:
Access to both Johnson's and Weill Cornell's faculty and alumni networks
The opportunity to explore entrepreneurship in the healthcare space through collaborations with the Weill Cornell Medicine BioVenture eLab and Entrepreneurship at Cornell
The chance to be a part of and lead student initiatives and organizations across both schools; EMBA/MS students recently participated in conferences hosted by the Johnson Healthcare Club and Weill Cornell Medicine's Future of Care Organization
Invitations to events hosted by Johnson's Office of Alumni Affairs and Weill Cornell Graduate School's Office of Alumni Relations where you'll engage with alumni communities across schools
Make meaningful business connections as you participate in the Healthcare Industry Roundup, an evening of networking with representatives from different types of organizations within the healthcare industry.
Signature Events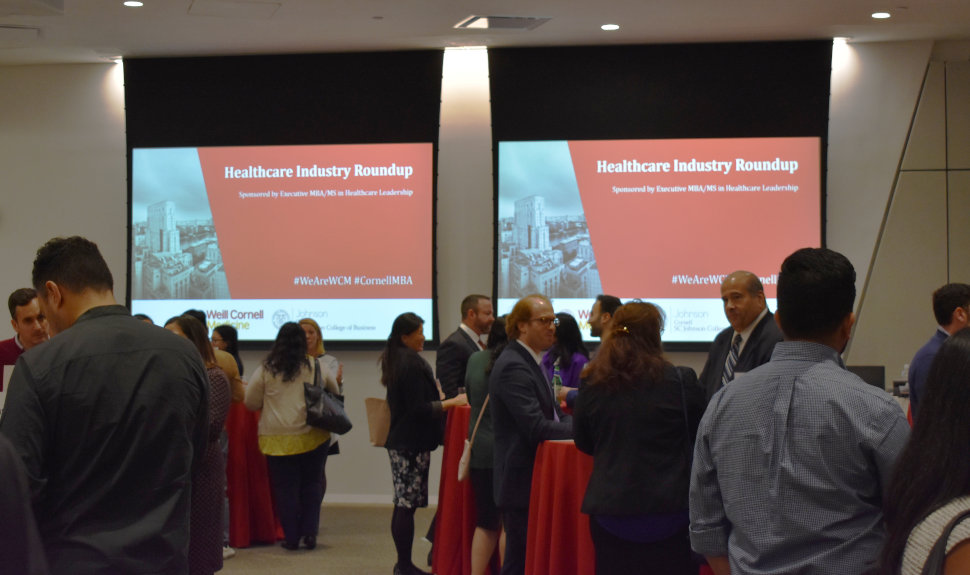 Throughout the year, the EMBA/MS program sponsors events that dive into healthcare and business. Some events are open to the public. As an EMBA/MS student, you'll not only attend these events, but also have the opportunity to engage with some speakers in a smaller, discussion based format.
Luminaries in Healthcare Leadership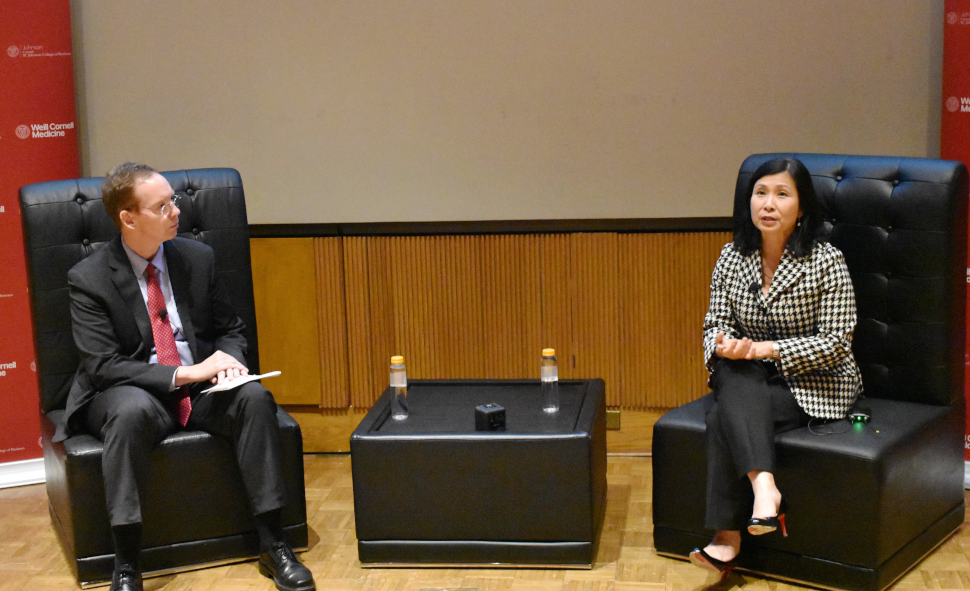 The Luminaries in Healthcare Leadership series invites senior industry leaders to share their perspectives on new or upcoming issues related to the rapidly evolving healthcare sector. Previous speakers include:
Chelsea Clinton, vice chair of the Clinton Foundation
Mark Bertolini, MBA '84, chair and chief executive officer at Aetna
Angela Hwang, MBA '94, group president at Pfizer
Vivian Lee, MD '08, president of health platforms at Verily
Sachin Jain, MD, chief executive officer at CareMore Health
Karen Murphy, PhD, RN, chief innovation officer at Geisinger
Lightning Talks
Lightning Talks invite a panel of experts to highlight trends and innovations related to different aspects of the healthcare industry in a rapid-fire presentation format. Previous topics include:
Disrupting Healthcare Through Technology
Changing the Landscape of the Insurance Industry
Trends and Topics in Healthcare Investing
The Learning Table
The Learning Table Series invites subject matter experts and leaders from industry to present on and discuss special topics in healthcare with students during breakfast or lunch on class weekends. Previous talks include:
Transitioning to Value-Based Care: Challenges and Opportunities with Marc Berg, partner at McKinsey & Company
Bringing Artificial Intelligence to Mental Health: From the Lab to the Clinic and Your Phone with Guillermo Cecchi, research staff member at IBM
Key Drivers for Emerging Healthcare Data Interoperability with John Squeo, blockchain lead – health and life sciences North America at Accenture Strategy
Entrepreneurship and Healthcare Transformation Through Telemedicine with Jamey Edwards '96, MBA '03, chief executive officer and co-founder of Cloudbreak Health
Intersections Between Hospitality and Healthcare with Brooke Hollis, MBA '78, executive director of the Cornell Institute for Healthy Futures
Faculty
The Executive MBA/MS program is delivered by faculty from both the SC Johnson College of Business and the Weill Cornell Graduate School, including a mix of clinicians and non-clinicians that are leaders in their field.
Faculty Testimonials
"Preparing the healthcare leaders of the future with the tools they need is critically important, and we've constructed an educational experience that is both rigorous and relevant. Also, healthcare is best executed as a team effort, and diverse teams are stronger and more effective. We're delighted that our executive MBA/MS classes are diverse in both gender, ethnicity, and experience."
- Dr. Geraldine McGinty, Senior Associate Dean for Clinical Affairs and Professor of Clinical Radiology and Clinical Population Health Sciences
Course Taught: Healthcare Innovation and Transformation
"This is a great program. I say that primarily because of the students. Their quality and experience allow for a fun and effective learning experience. I think one of the best decisions the program made was to balance the participants in the program between practitioners and those with other relevant work experiences. The depth and breadth of the students backgrounds make for great class discussion and enhances the ability to include different perspectives when examining issues."
- Douglas M. Stayman, Associate Professor of Marketing and Management at the SC Johnson College of Business
Course Taught: Marketing Management
Admissions
Applications for the Executive MBA/MS program are accepted and evaluated on a rolling basis.
Applications are currently being accepted for the Class of 2025.
Submit a Pre-Assessment
During this step, our admissions team will provide you with preliminary feedback on your candidacy. This step is particularly helpful to those candidates who are unsure about their fit with an Executive MBA program.
The Pre-Assessment allows our admissions team to customize your candidate journey and invite you to events and experiential opportunities based on your professional interests and profile.
Submit your Application
Once you start an application, you can complete it at your convenience. A completed application includes:
Submitted application
Resume
Organizational chart (optional)
Four required essays
Two letters of recommendation
Official transcripts from all undergraduate and graduate institutions you've attended
$200 application fee
Schedule an Interview
Upon completion of your application, you may be invited to interview for admission to the Executive MBA/MS program. Interviews are conducted in-person or via video conference
Receive your Decision
Final admissions decisions are released approximately four weeks after the admissions interview.
Financing your degree:
Information about program tuition can be found here. The cost includes all fees, books, study materials, meals on class days, and residencies. Tuition for this dual-degree program will be payable to Weill Cornell Medicine, with the exception of the enrollment deposit. The total amount will be payable as follows:
$5,000 non-refundable tuition deposit due immediately upon acceptance to the Johnson Graduate School of Management, which will be applied to your first tuition installment
The first bill is due in June and must be paid in order to be considered officially registered with the University. The second payment will be due in January, and tuition will continue to be billed semiannually (June & January) through the Weill Cornell online billing platform
Scholarships
Applicants who apply for admission to this program will be considered for partial scholarships by the Scholarship Committee based on the strength of their application. There is no supplemental information required for scholarship consideration. Scholarship awards will be communicated in conjunction with offers of admission.