November 18, 2021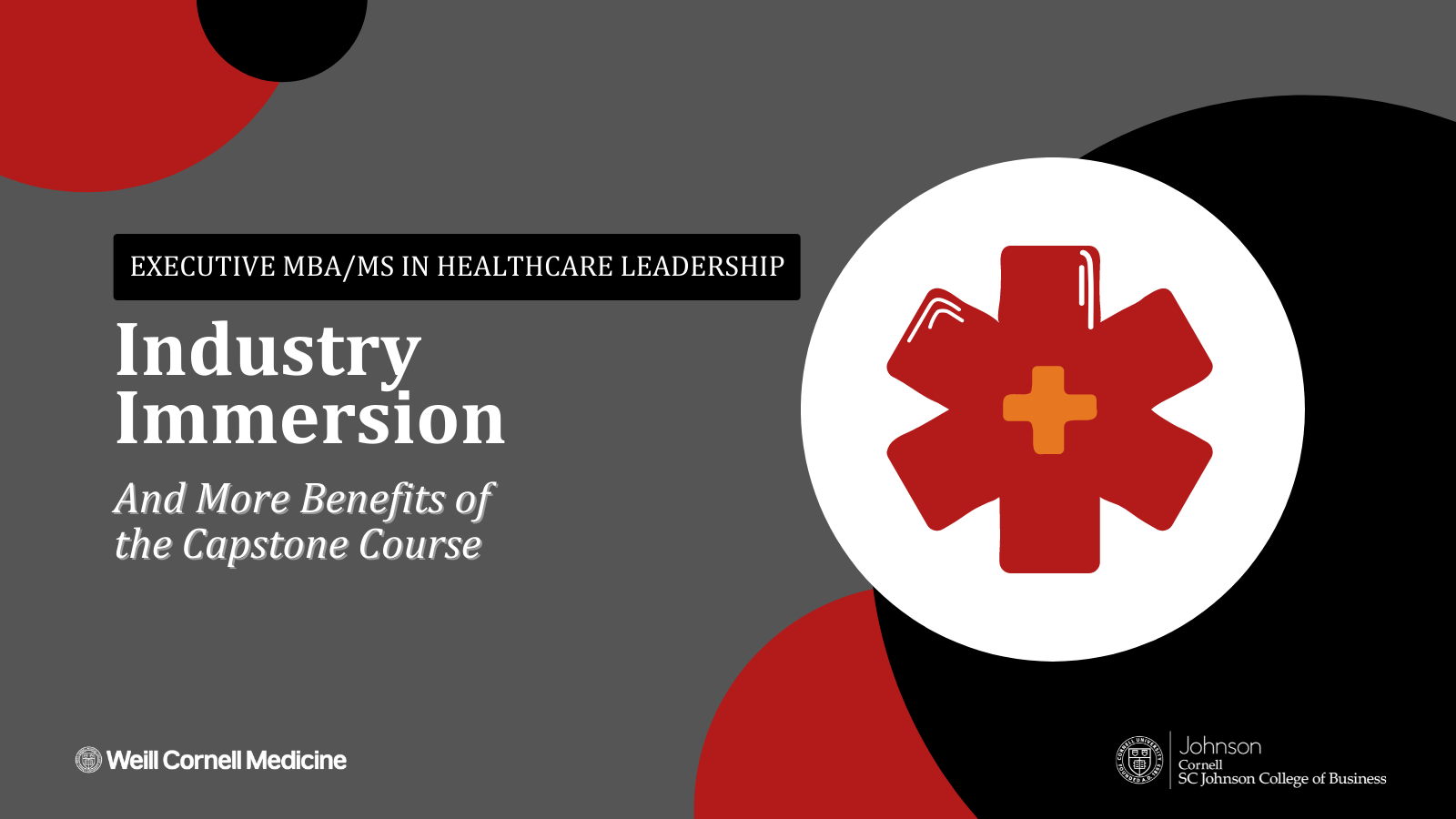 Cornell's Executive MBA/MS in Healthcare Leadership program is one of a kind among the Ivy League. Graduates of the dual-degree program earn credentials from both Weill Cornell Medicine and the Samuel Curtis Johnson Graduate School of Management. However, that is not all that makes the program stand out among the crowd. The industry immersion component ensures students are ready to immediately make an impact on the rapidly evolving healthcare field.
The 22-month-long program culminates with a hallmark assignment—the capstone project—which places student teams with healthcare industry partners to solve real-world issues. These projects marry academic and professional knowledge to produce tangible outcomes for healthcare industry clients and marketable experiences for students.
Andrea Cohen (MBA, MS '19), executive director of strategy & business for clinical research in the Department of Population Health Sciences at Weill Cornell Medicine as well as a former consultant and current project director for INSIGHT Clinical Research Network, guides students through this process as the director of the capstone course.
From completing the program as a student to now curating the experience as a faculty member, Cohen has seen the real impact it has had. "I have been part of this program since its inception and I can say that, without a doubt, our capstone projects have made a significant impact on the healthcare market. Our students have helped change the course for their clients and started a remarkable legacy."
There is both a team and an individual element to the capstone project. As a team, students work with an industry partner to clearly define the problem, determine the stakeholder relationships and roles, and complete the necessary analysis. Establishing a trusted connection with their respective industry partners, they offer actionable solutions and recommendations. Individually, students identify and fulfill a unique role within the team environment that demonstrates mastery of at least one element of the healthcare leadership curriculum.
The experiential learning course offers three types of industry partners: large established companies focused on strategic questions, medium to large companies focused on operational questions, and entrepreneurship-focused projects (a new partnership between the program and the BioVenture eLab at Weill Cornell Medicine).
Former industry partners have included Salesforce, Sharecare, NewYork-Presbyterian, Mymee, Zocdoc, and more, including pharmaceutical and insurance companies. Through a multitude of impressive outcomes, alumni of the EMBA/MS program have proven their ability to make immediate changes across unique healthcare industry sectors. As industry leaders and healthcare professionals continue to see these impacts, Cornell's program grows in class size and takes on even bigger challenges. Program leadership encourages any organization interested in becoming a capstone partner to get in touch.
The Cornell Executive MBA/MS in Healthcare Leadership Program is a dual-degree program created by two powerhouses in graduate education—the Samuel Curtis Johnson Graduate School of Management and the Weill Cornell Graduate School of Medical Sciences— that focuses on building general management skills and developing a deeper understanding of the healthcare industry. Learn more about the program here.