June 15, 2022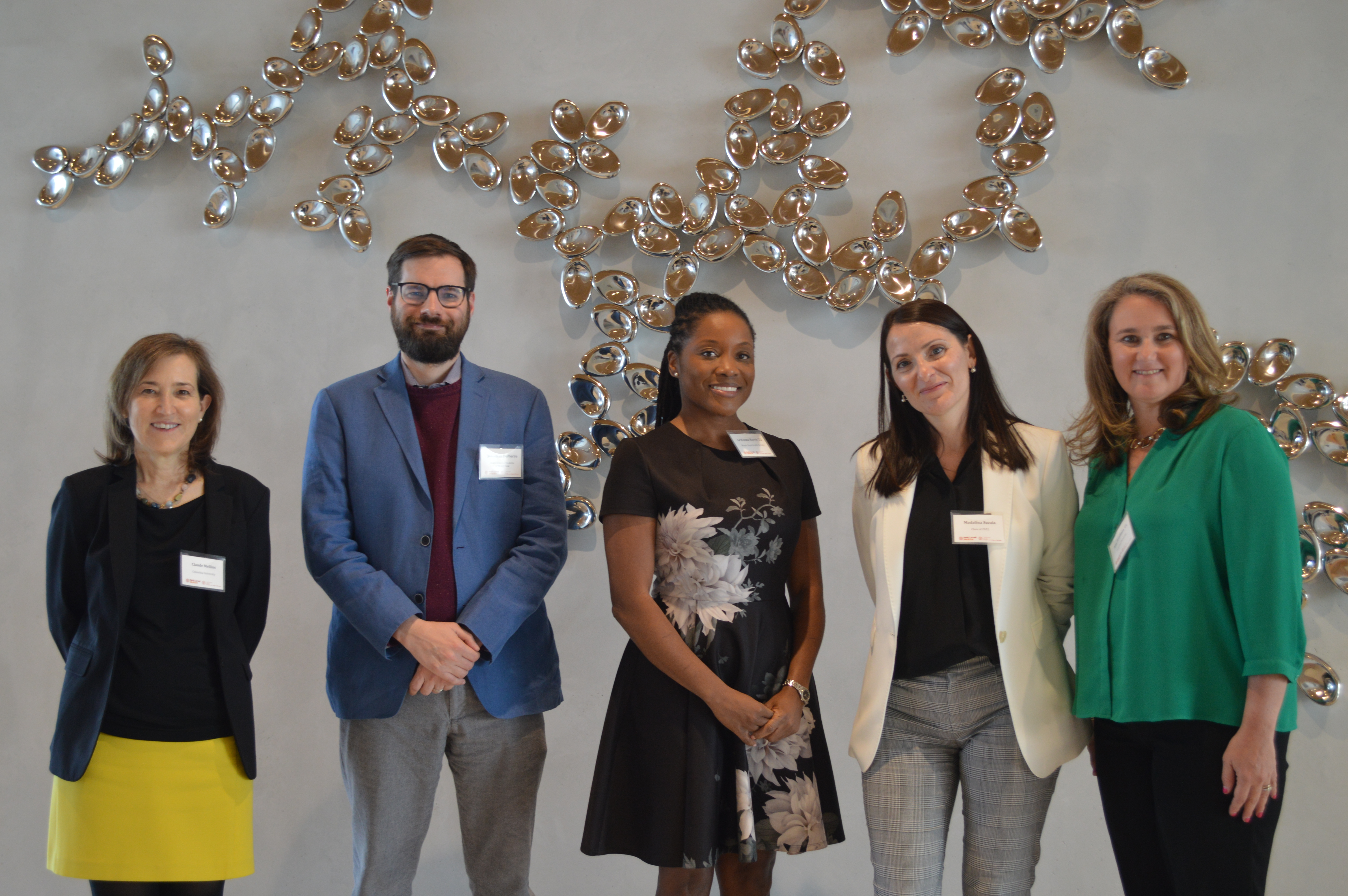 The Dr. Lorna Breen Healthcare Legacy Fellowship concluded its inaugural program with a Resilience Building in Healthcare Settings Workshop for students and alumni of the Cornell Executive MBA/MS Program in Health Leadership. Developed by the program's inaugural fellow Madalina Sucala (MBA, MS '22), the event focused on mental health support for healthcare workers.
The fellowship is named for Dr. Lorna Breen, a talented physician and beloved member of the EMBA/MS Class of 2021. She served on the frontlines of the COVID-19 pandemic, which had a painful toll on many in the healthcare field. On April 26, 2020, Dr. Breen took her own life. To honor her memory, the Class of 2021 developed the fellowship to recognize students for their contributions to promoting and expanding mental health services in the EMBA/MS community.
"Heightened stress, anxiety, depression, and even PTSD – these were happening even before the pandemic and COVID-19 catalyzed everything," stated Sucala in her opening remarks. "We have a duty, now more than ever, to put our best efforts forward to help the healthcare workforce."
The workshop began with a case study presentation from Dr. Claude Mellins, professor of medical psychology at Columbia University Irving Medical Center and co-director of the HIV Center for Clinical and Behavioral Studies in the Division of Gender, Sexuality, and Health at the New York State Psychiatric Institute and Columbia University. Through her work in HIV research, Dr. Mellins has found that exposure to multiple losses and life changes can lead to a psychological flip that is larger in size and duration than physical and medical ones. Meaning that even after the threat is gone, the psychological impact continues to affect people in many ways. According to a recent Kaiser Family Foundation/Washington Post survey, 62% of healthcare providers reported that COVID-19 had a negative impact on their mental health.
"In March of 2020, the hospital was inundated with COVID cases. So, we needed to think about how to support people in this time of trauma, loss, and grief, and create a program that would really promote resiliency," shared Dr. Mellins. Recognizing the tremendous stigma around mental health, particularly among physicians, Dr. Mellins and her colleagues presented themselves as peers instead of psychiatrists, translating evidence-based mental health practice into everyday language. "We wanted to provide a safe space for people to talk about what has been challenging and stressful and label, validate, and normalize the emotions people were experiencing," she explained.
With these intentions, CopeColumbia was created. A program designed to foster collective wellbeing and resilience, it offers faculty and staff access to peer groups, individual meetings, town halls, webinars, as well as a website with copious resources. To date, the program has reached around 12,000 people, and one-third of individuals who participated in individual sessions were referred to treatment. Building on its success, the program is now working to make systemic changes by developing toolkits to help leaders and managers to engage their teams in conversations about stressful topics. 
The presentation was followed by a panel discussion that included Dr. Mellins; Dr. Jonathan DePierro, assistant professor of psychiatry at the Icahn School of Medicine at Mount Sinai and clinical director of the Center for Stress, Resilience and Personal Growth; and Dr. LeWanza Harris, (MBA, MS '22), vice president of quality and regulatory affairs at Mount Sinai Health System. Amy Friedman (MBA, MS '21), administrator/COO at the Columbia University Department of Psychiatry, served as the moderator.
Building on the topic of systemic issues, the panelists agreed that too much responsibility is placed on the individual when addressing burnout. "As leaders, we have a very integral role in our staff's mental health and wellbeing. How can we design the system to support our staff?" said Dr. Harris. "We are talking about all these great resources, but do they have the time to do it? We need to understand the barriers that are preventing them from participating."
Finding the right vehicle to deliver information is also key to staff engagement. "For people who have more time, we have workshops on resilience topics. But for more busy people, we go to their huddles with five to ten bullet points," said Dr. DePierro. "There are different engagement strategies for different audiences."
"One of the biggest things is relationships and having your spokespeople be trusted," added Dr. Mellins. "By coming in as peers, it helps destigmatize us as psychologists and psychiatrists."
The event concluded with a co-creation session where participants leveraged their diverse backgrounds and experience to identify challenges in receiving mental health support and develop problem statements. This work will be continued by students in the upcoming semester's Design Thinking class, where they will work in teams to develop solutions using human-centered design.
The next fellow will be selected in the 2022-2023 academic year as the fellowship continues to grow and create an impact on the healthcare community. To learn more about supporting the ongoing efforts of the fellowship, please visit Cornell's Dr. Lorna Breen Healthcare Legacy Fund. For more information about the work being done to safeguard the wellbeing of healthcare professionals, please visit the Dr. Lorna Breen Heroes' Foundation website.
The Cornell Executive MBA/MS in Healthcare Leadership Program is a dual-degree program created by two powerhouses in graduate education—the Samuel Curtis Johnson Graduate School of Management and the Weill Cornell Graduate School of Medical Sciences— that focuses on building general management skills and developing a deeper understanding of the healthcare industry. Learn more about the program here.