May 14, 2019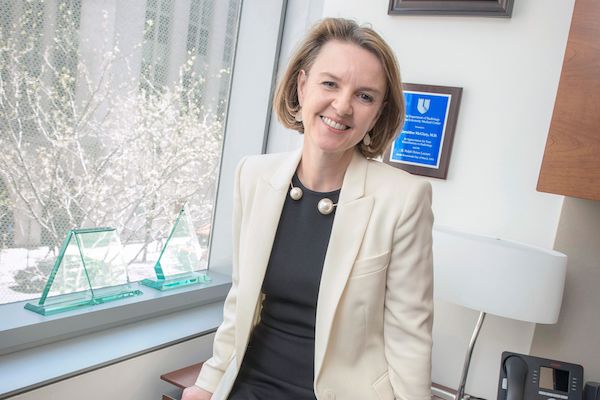 Geraldine McGinty, MD, MBA, FACR, recently discussed with the Radiology Leadership Institute (RLI) how a business education can benefit healthcare professionals. McGinty, assistant professor in the Department of Healthcare Policy and Research at Weill Cornell Medicine and faculty advisor for the Executive MBA/MS in Healthcare Leadership program, was featured on the institute's podcast Taking the Lead, which explores healthcare leadership through interviews with radiologists and industry thought leaders.
In the episode "Leading with Mindfulness and Inclusiveness," McGinty talked about the path that led her to pursue an MBA, the importance of a strong network, and her mission to make the field of radiology more inclusive.
Key takeaways from Geraldine McGinty's interview with RLI's Taking the Lead podcast
Core competencies in business prove invaluable for healthcare leaders.
McGinty is no stranger effective business strategy—she is currently the chief strategy officer and chief contracting officer for the Weill Cornell Physician Organization. In the episode, she outlined some of the core requirements for students in the Executive MBA/MS in Healthcare Leadership program, which include "very solid" MBA topics such as accounting and finance. "What I say is, 'nobody can hand me something in a meeting that is going to scare me,' I'm not ever going to be scared of a business plan or a spreadsheet."
An MBA can provide a different approach to problem solving.
McGinty noted that her MBA coursework and experiences offered a different approach to problem solving that wasn't presented in medical school. "Perhaps it's more of an ability to think in a divergent way before coming to a conclusion," she explained, "or to assess problems in a different way." She also mentioned the importance of negotiation strategies. When explaining her course material, McGinty said she has included concepts that are prevalent in healthcare now, like machine learning and design thinking.
Data is a powerful tool for showing impact and effectiveness.
"One of the things that I find very powerful," McGinty said, "is when I can bring data so that I'm not just saying our doctors are better—even though I firmly believe that they are—but I'm bringing data that supports that."
Diversity and inclusion is important for long-term success.
When asked about her primary goal as the chair of the American College of Radiology's Board of Chancellors, McGinty stated she hopes "to ensure the long-term success of the organization." To accomplish this, McGinty believes the key is to make it more inclusive and reflective of the patients they serve.
"The door is open, please come and be part of the community," said McGinty.
You can listen to Dr. Geraldine McGinty's full episode of Taking the Lead on iTunes or RLI's podcast page on PodBean.
A version of this story first appeared in the Cornell SC Johnson College of Business newsroom.