November 24, 2019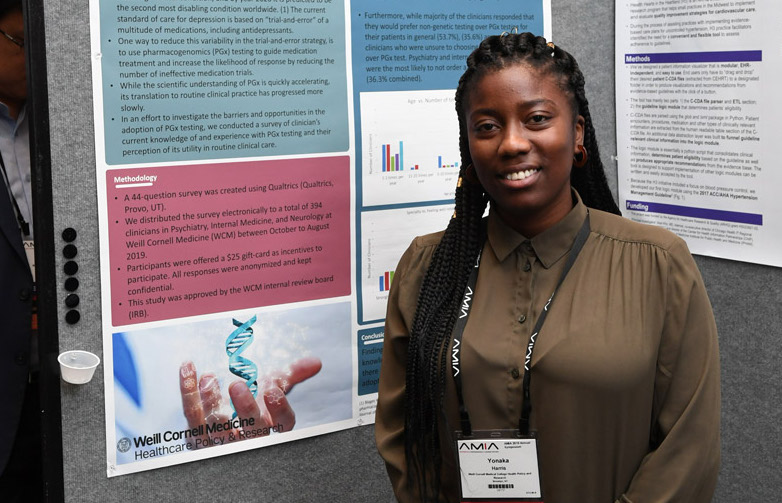 Yonaka Harris, a first-year student in the M.S. in health informatics program at the Department of Healthcare Policy and Research, received the 2019 AMIA Trainee Travel Award. Sponsored by the AMIA Leadership and Education Award Donation (LEAD) Fund, the award supports trainees' travel to this year's AMIA Annual Symposium in Washington, D.C., to share their research with informatics experts from around the country.
Yonaka showcased the project, "Pharmacogenomics and EHR-driven Clinical Decision Support versus Treatment As Usual in Antidepressant Treatment." Pharmacogenomics is an exciting area of research that focuses on how genes impact an individual's response to medicine. The study, which will include a physician survey and a clinical trial, is a big step forward in precision medicine. In her role, Yonaka will be creating conceptual models that underpin how the study will work.
"As the program director for the MS program (Health Informatics), and also Yonaka's mentor on this pharmacogenomics study since 2018, I am very proud of Yonaka's accomplishment," said Dr. Yiye Zhang, assistant professor of healthcare policy and research. "It is a great example of how students can work with HPR faculty on important research studies.
Drug effectiveness can be a case of trial and error for many people. Yonaka, who has been a patient herself, understands how discouraging the process can be. "There are a lot of patients out there who are receiving treatment that doesn't work and it can take an emotional toll on them," she said. "I don't only want to be a part of the healthcare system. I want to impact it."
"We look forward to continuing to work with Yonaka on understanding how pharmacogenomics may be incorporated in routine clinical decision support," said Dr. Zhang. 
Yonaka was born in Guyana and completed a bachelor's degree in biomedical informatics from the New York City College of Technology. She is expected to graduate in 2020.