June 2, 2020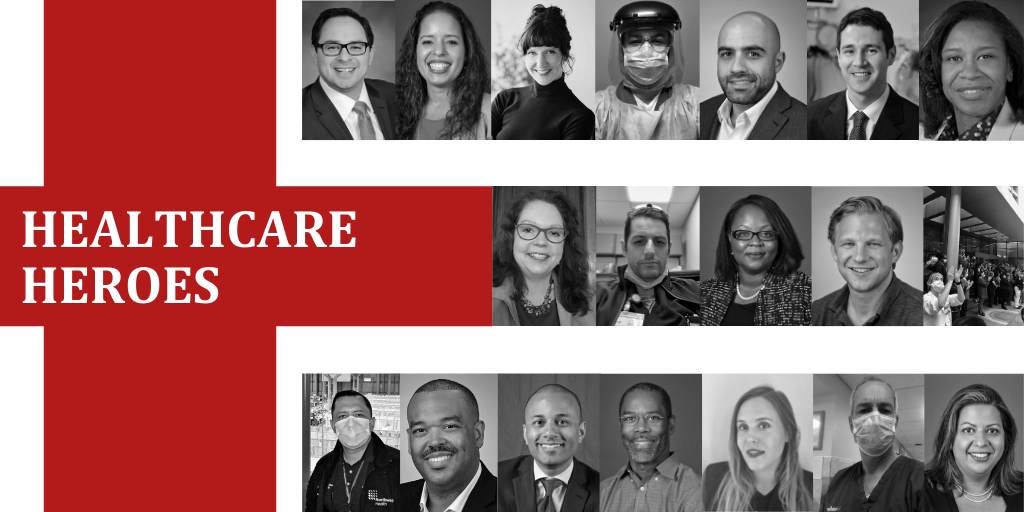 Since the early stages of the COVID-19 crisis, students and alumni of the Cornell Executive MBA/MS in Healthcare Leadership program have juggled their academic, personal and professional lives to tackle the virus. Their brave work has crossed industry boundaries, from the front lines of our healthcare systems to technology companies around the nation. Here is a snapshot of some of their incredible efforts.
Fighting on the Front Lines
As healthcare systems across New York City and the country became overwhelmed with COVID patients, front line healthcare workers shifted priorities to care for the most vulnerable in their communities.
 Dr. Jonathan Gal ('21) has juggled clinical duties as an anesthesiologist, administrative duties for health system finances, and family duties for his physician wife and two young children during the pandemic. As director of governmental and reimbursement affairs in the Department of Anesthesiology, Perioperative and Pain Medicine at Icahn School of Medicine at Mount Sinai, Dr. Gal has helped his team care for COVID-19 patients while advising and predicting the pandemic's financial effect on the health system. The pandemic has added stress to an already demanding profession – but Dr. Gal found a silver lining: "It is definitely an unprecedented time, but fortunately I only shave my face on days I have to wear an N95 mask."
Under the direction of Governor Andrew Cuomo, Juan Serrano ('20) helped to manage all administrative and clinical operations at Javits Center and USNS Comfort. From April 3 to May 1, military nurses and doctors were deployed to hospitals throughout New York City, treating a total of 1,095 patients. As the director of military and veterans liaison services at Northwell Health and a veteran himself, Serrano says this was the mission of a lifetime. "It is my distinct honor to once again serve alongside our military, doctors and nurses to combat the invisible enemy. Not all heroes wear camouflage or capes, they wear scrubs, too!"
As associate chief of labor and delivery at Northwell Health, Dr. Monique De Four Jones ('20) has worked to keep both expecting mothers and their newborns safe. Her team developed a process to prescreen pregnant patients prior to their scheduled cesarean section or induction of labor. The results helped her team know which operating rooms to use, which nurseries to place the babies, and where to accommodate postpartum mothers. Dr. De Four Jones is proud to note that her department has safely discharged several hundred COVID-19-positive mothers and their children. "What a wonderful experience to be part of the 'home team.'"
Dr. Brenna Farmer ('19), site director of the emergency department at NewYork-Presbyterian Lower Manhattan, has worked closely with nursing colleagues, the ICU team, and every service in the hospital while creating a COVID-19 guidelines work group for NewYork-Presbyterian's emergency departments. "The agility and flexibility my team has had during this pandemic has been truly exceptional, particularly when we have to change some parts of our operations on a daily basis, including working in a tent." 
Dr. Daniel Lakoff ('20) is also on the front lines as an emergency room physician and healthcare leadership and management fellow at Weill Cornell Medicine. While making sure his colleagues have what they need and feel safe and supported during the pandemic, he says he wouldn't describe his work as heroic. Rather, "I showed up to do my job to care for as many patients to the best of my ability with an exceptional team around me." Dr. Lakoff notes that while these times have been uncertain, his team's care has not. "I am proud to be among the most compassionate, smartest and toughest healthcare teams in New York City." 
Dr. Steven Berk ('20), director of General Internal Medicine Faculty Practice at Montefiore Medical Center, worked as an internist on the COVID-19 ward every other week during April, in addition to taking care of his primary care patients by telemedicine. "So many people in the Bronx have been infected, but I am glad to see that things are starting to settle down."
According to Dr. Hasan Aldailami ('21), the pandemic has been humbling in many ways. The vascular surgeon in the Division of Cardiovascular and Thoracic Surgery at Montefiore Medical Center joined his colleagues in putting down their scalpels and leaving their comfort zones to take care of COVID-19 patients. That meant relearning critical care to best help the sickest patients survive. "It has been extremely gratifying to be able to contribute to my community, but also very scary." 
Increasing Virtual Support
There has been a quick shift to telemedicine and virtual care, with healthcare professionals monitoring patients suffering from the virus to chronic illnesses.
Dr. Andres Jimenez ('19), founder and CEO of ImplementHIT; Dr. Ofrona Reid ('19), vice president of medical affairs and chief medical officer at Oneida Healthcare; Natasha VanWright ('19), assistant vice president of care management at Healthfirst; and Cynthia Morel ('19), manager of compliance and performance in Weill Cornell Medicine's Department of Information Technology and Services, are using virtual care to support patients. Together, they are mobilizing an army of medical volunteers to deliver free COVID-19 virtual screening, monitoring, and education to vulnerable communities across the U.S.
Terri Casterton ('21) is the senior director of innovation and virtual health at SCL Health. She has helped increase virtual access points to healthcare, leading to a 2900% increase in virtual visits from February to March this year. "It has been an exhausting but highly rewarding experience to know that thousands of patients are getting care that they would otherwise go without."
Ashley Cardarelli ('20), vice president of strategic partnerships at Sharecare, helped design the "Flatten the Curve" study through a partnership with Boston University School of Public Health. The study is designed to assess and promote better understanding of the impact of COVID-19 on both individuals and populations. Cardarelli says her team "aims to empower people to take an active role in both preventing the spread of the novel coronavirus and caring for their own well-being as they cope with the impact of the pandemic."
Elizabeth Urbanski-Farrell ('21), director of member services & government relations at Western New York Healthcare Association, has kept regular business operations running while taking extra steps to support members during the pandemic. She quickly rolled out virtual content and COVID-19 updates pertinent to members. Urbanski-Farrell also created a multidisciplinary team with colleagues at the Healthcare Association of New York State, bringing in experts to develop a comprehensive set of initiatives. "These initiatives are supporting our hospital and healthcare members through what may arguably be the toughest challenge of our lives."
In a different form of virtual support, Dr. John Clarke ('21), director of occupational medicine at Cornell Health, produced "Stop Corona" to raise awareness about the prevention of COVID-19 infection and spread. The medical rap and video PSA is part of Dr. Clarke's Health Hop series and has a special meaning to him and his family. "My children are in the video and we shot the scenes in early March. Between the time it was filmed and edited, my mother-in-law and father-in-law both contracted and passed away from COVID-19," Dr. Clarke said. "We dedicated this video to their memory as we know they would have been proud of their grandchildren and would want this message to be heard."
Transforming Hospitals
Hospitals have had to adapt to the challenges of the pandemic, safely creating innovative solutions to accommodate COVID patients.
Dr. Chhavi Katyal ('20) is the medical director at Children's Hospital at Montefiore. She helped convert the hospital into an "all-age" hospital to care for adult coronavirus patients. Dr. Katyal and a team of colleagues recently described this process in "Rapid Implementation of an Adult COVID-19 Unit in a Children's Hospital," an article published in The Journal of Pediatrics. "This conversion was innovative because our pediatricians and pediatric nurses independently managed the adult patients."
Dr. Zachary A. Turnbull ('19) worked with colleagues at NewYork-Presbyterian/Weill Cornell Medicine to rapidly convert operating rooms (ORs) and postanesthesia care units (PACUs) into intensive care units (ICUs). This involved repurposing every available anesthesia machine, given the shortage of traditional ventilators, results in an additional 60 beds for critically ill ventilator-dependent patients. Dr. Turnbull's team also reconfigured these spaces to keep staff safe and conserve personal protective equipment. Read about the process in this New England Journal of Medicine article, "Transforming ORs into ICUs."
Distributing Tests and Developing Treatments
Widespread testing will help the medical community learn just how much our cities have been impacted by COVID-19. Looking past the immediate challenges, researchers are working to develop treatments to keep our communities safe in a post-COVID world.
Dr. Chad Craig ('19), medical chief of the Spine Service at Hospital for Special Surgery, is the principal investigator for a study that is part of a larger national study from the Mayo Clinic. He's examining the use of convalescent plasma in patients infected with COVID-19. There are currently no approved therapies for the virus, but Dr. Craig says, "Research in this area is of particular interest and importance to many healthcare providers and the general public."
Nick Mitilenes ('21), president of Eurofins NTD, says he is "proud to continue driving diagnostic innovations directly affecting public health that will ensure front line healthcare providers have the best tools to combat the crisis." Mitilenes has been coordinating directly with the FDA and various state agencies to fast-track approval of new assays and collection devices in order to ramp up capacity, minimize risk to healthcare providers, and provide uninterrupted access to high-complexity tests. He has also been working with global stakeholders to develop novel collection devices and techniques to maximize patient access and affordability while still maintaining industry-leading turnaround time.
Join us in thanking these students and alumni, among countless healthcare professionals around the world, for stepping up to tackle one of the biggest crises of our time.